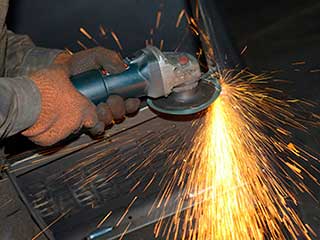 A gate system can greatly improve the security aspect of your property. When it malfunctions, however, it can leave you exposed; not to mention, you could end up getting stuck and unable to leave (not with your car anyway). If you're in need of fast response repair services, look no further than our highly skilled team. Our technicians know exactly how to handle any type of problem your gate may suffer from.
Repairing Hardware Damage
A lot could go wrong and cause your gate to misbehave. Some issues that damage the structure and appearance, can be more than an aesthetic eyesore. They can also impact the functionality of the system. Breaks in a wrought iron frame or damage to the track or hinges can prevent your gate from opening and closing properly. If you need to have some welding repair done, or to have a bent track straightened, you can count on our team to take care of it.
Annoying Intercom Problems
Sometimes the problem won't be with hardware parts, but rather with the communication system of your gate. Not being able to communicate with people who are waiting outside your property can be down right annoying, not to mention, there's an element of risk, as you need to know who it is that you're letting in. Our repair specialists know exactly how to handle problems with the gate intercom system, and fix them quickly so that your safety and security won't be compromised.
Issues With The Motor Unit
Your automatic gate opener can also start giving you problems due to mechanical or electrical issues. When that happens, our team can help. Whether it's the safety sensors, the circuit board or trouble with the limit switches, we'll quickly root out the problem and make sure that your opener has no trouble moving the large metal frame.
We're Here For You
If you're having some problems and you want your gate to be repaired by professional technicians, we're the company to call.Our specialists at Garage Door Repair Yonkers have the knowledge and the skills to expertly handle any type of issue, from hardware damage to electrical malfunctions. Call us today.
You can also count on us for:

Gate Hinge Repair

Driveway Gate Repair

Parking Garage Gates

Eagle Gate Opener