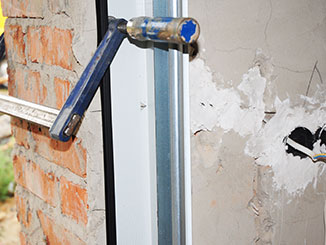 Our team offers fast, effective repairs for each and every part of your garage door system. Our technicians are experts at quickly identifying the root cause of anissue, and then applying the right solution for it. If your door is sagging, squeaking or unable to open or close, we can certainly help. No job is too large or too small for our technicians, and we always work hard to get the problem solved in the shortest time possible.
Worn And Weak Springs
A common problem that you may face involves the system's hardest working parts. The torsion and extension springs garage doors use are designed to last for several years but they will eventually wear out. When this happens, your door will often start to become unbalanced, which can be dangerous. These units can even break completely which poses a serious threat to your safety. That's why our company offers emergency broken spring replacement services. We want to be able to help homeowners as soon as possible, to help them avoid unfortunate accidents.
Frayed Or Damaged Cables
Another crucial load-bearing parts of your door system are the lift cables that support the weight of its panels. Any signs of fraying or braiding point to reduced strength, which means the cable in question will eventually break altogether. These components can be quickly replaced, and it's essential to do so if any signs of wear are found. We don't suggest you attempt to complete this task yourself, as it too can be dangerous. That's what we're here for, after all.
Drive System Problems
All garage door openers rely on a chain, a belt or a screw drive in order to move the door. If this system becomes damaged it can severely compromise the effectiveness and reliability of the motor unit and hinder the automation of the door. Whether you have a Linear belt drive opener, a LiftMaster chain drive unit or a Genie screw drive model, or one from any other brand, our professionals can help you. We can repair motor problems as well as troubleshoot remote control issues and circuit board glitches.
Damaged Or Bent Tracks
These are the hardware parts that guide the movement of the rollers, which in turn help the panels rise and descend. Any damage to the tracks, whether from rust, dents or misalignment, will hinder the movement of your door, and may even cause it to collapse, in extreme cases. Our experts can fix minor damaged sections to prevent this from happening, and even replace entire tracks to ensure that this does not occur.
We're Always Ready To Help
Our team handles all the previously mentioned problems and many more - no matter what type of issue you're experiencing, our technicians at Garage Door Repair Yonkers can provide a solution. Contact us today and let our team make sure everything is functioning as well as it should be.
Want more? Let us take care of:
Maintenance Garage Door Torsion Spring
Galvanized Torsion Spring Replacement
Opener Remote Clicker Replacement
Broken Garage Door Track Repair