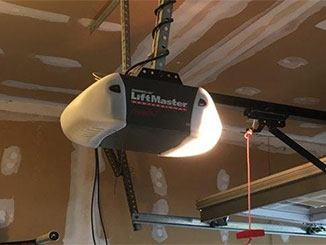 The most vital part of your automatic garage door system is probably the opener. The springs have their importance, don't get us wrong, but without this motor unit, the automation of the mechanism would be impossible. An opener in good condition should work quickly and smoothly every time you use it, while a worn-out unit will often become loud, slow and unreliable. In addition, because many of the most crucial safety features of your door system are incorporated in this device, an unreliable unit can become very dangerous. Any issues should be fixed as soon as they arise, to prevent them from exacerbating and putting your safety at risk.
Effective Opener Repair Services
A malfunctioning opener can be the result of many different problems. Common issues include worn-out motor gears, torn or broken drives (belt or chain, respectively) and even electrical issues, like a faulty circuit board. Our technicians will quickly troubleshoot the problem, pinpoint the exact component that's causing it and then work to resolve it as quickly as possible.
Keeping Things Safe
Many problems with these units can be avoided with regular maintenance. As part of the regular service visits we offer, our technicians run a few tests that will let us determine whether or not the motor unit's safety features are working correctly. We'll test the alignment of your safety sensors, as well as the proper function of the auto-reverse mechanism, which forces the door to open back up if it encounters resistance while trying to close.
Upgrading To A New Model
A new opener can offer you a wide range of benefits - modern models are safer, more reliable and more convenient to use than their older counter parts. If you're thinking of upgrading, our experts can carefully guide you through the many options available to you. We'll explain the main differences between the drive system types modern models use (chain, belt and screw), as well as the various brands, like LiftMaster, Genie, and Amarr (to name a few), and what unique features each of them offers. We'll then install the new unit you choose to our high professional standards, and make sure that the door opens and closes without any issues what soever.
Garage Door Repair Yonkers Is Ready To Help
If your opener is slow and noisy, or just doesn't seem to work right, our team can help you. Contact us today to have our experts assist you with anything from circuit board replacement to emergency motor repairs.
Count on us when it comes to:

Garage Door Panel Replacement

Belt Drive Garage Door Openers

Broken Garage Door Spring Replacement

Garage Door Troubleshooting Services