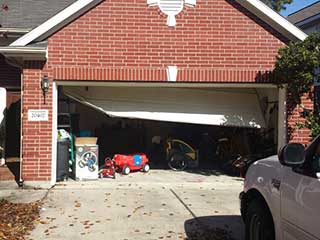 Our team is there for you whenever you're looking for a reliable garage door repair service nearby. Whether it's a matter of replacing damaged panels, installing a new opener or an annual maintenance appointment, our team will make sure that you are 100% satisfied with the service. This means we never compromise on quality, and we never cut corners - every job is important to us.
Quality Repairs & Replacements
It's important that you can rely on your garage door system to function properly day in and day out. Not only is using it an essential part of your daily routine, it's perhaps the largest, heaviest piece of machinery in your home. It needs to be reliable in order for you to be safe - this means every component must be properly installed, tested, and regularly maintained. Our company emphasizes quality in everything they do, from using parts of the highest quality to installing brand names, and this means never accept settling for mediocrity.
Repairing Malfunctioning Openers
The opener plays an important part in keeping your garage door safe for you to use. This motor unit contains several safety features that prevent accidents from occurring –like the photo eye sensors and the auto-reverse mechanism. It's essential to quickly resolve any problems that your opener may be having in order to ensure you can keep using it safely. Our team has plenty of experience working with openers from all brands, so we can quickly identify and fix anything that may be causing it problems.
Professional Maintenance & Safety Tests
Every component in your door system is important, from the panels to the rollers, to the smallest nuts and bolts that hold it all together. Our team will check and clean every part, ensuring that any damaged components are swapped out with top quality replacements. We'll clean and lubricate moving parts like the hinges, torsion springs and rollers, and we'll also adjust the alignment of the safety sensors if necessary.
Your Local Team In Yonkers
"How Can I fix My Garage Door?" This is a question our team is asked very often, and for good reasons. This is the information era where doctor Google never fails, so it's only understandable you'd try to find out "how to replace my broken spring?" "how to fix a broken garage panel"? and so on. However, Google is not a qualified technician – and often times the tips and articles you read were not written by professionals. Don't risk it – contact our experts at Garage Door Repair Yonkers today to find out how we can help you.
Contact Us Today!

Satisfaction Guaranteed

Weekend Appointments

Affordable & Reliable Services

Highly Skilled Technicians