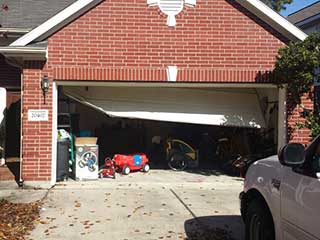 Whenever you need help from reliable garage door repair services near Yonkers, there's one team to call. Whether it's a matter of replacing damaged panels, installing a new opener or an annual maintenance appointment, Garage Door Repair Yonkers can do it. Your automatic overhead garage door deserves the best service possible, but you shouldn't pay premiums to get it. With us, you get affordable spring and opener services, available to anyone in or near the service area. That includes New Rochelle and Tuckahoe as well.
Garage Door Opener Repair
The opener is in charge of the garage door automation. That means that it controls the movement of the door and allows you to open or close it remotely. It also initiates the action by providing the horsepower needed to start the door opening or closing. The springs do the heavier lifting, but the automatic garage door opener controls it. When things go wrong, like a motor gear breaks or the chain needs adjustment, you need a professional to help with the repairs. But even regular maintenance can help you avoid issues. Garage door sensor realignment and replacement, and various lubrication and adjustments can make your electric opener last longer. Whether you need emergency opener troubleshooting or to get a new part installed, leave it to Garage Door Repair Yonkers to expertly handle things.
Broken Spring Repairs
So as mentioned earlier, the garage door springs are the parts that support most of the door's weight. The lift cables help, but the springs provide the tension that makes the action seem effortless. Well, it's not effortless. Not at all. Trying to open a garage door with a broken spring is not advised. In fact, it is discouraged. Garage door springs can be very dangerous, and adjusting or replacing them should be handled by experts. Garage door spring replacement is a service that you'll find is well within our specialties. With us, the emphasis is on speed and safety, as well as reliability. Your new garage door springs will work smoothly and silently. The leading garage door company near Mount Vernon is always close enough to provide a speedy response.
Garage Door Opener Replacement
The opener plays an important part in keeping your garage door safe for you to use. This motor unit contains several safety features that prevent accidents from occurring –like the photo eye sensors and the auto-reverse mechanism. It's essential to quickly resolve any problems that your opener may be having in order to ensure you can keep using it safely. The team here at Garage Door Repair Yonkers has plenty of experience working with openers from all brands. You'll find us able to quickly troubleshoot and solve any opener problem. Wherever you are in Westchester County, you can get fast and effective garage door services, any day of the week. Weekends included.
Garage Door Maintenance & Safety Tests
Every part of your overhead door system is important. From the panels to the rollers, to the smallest nuts and bolts that hold it all together. The garage door maintenance you can get here ensures the pros check and clean every part. If a garage door cable or track is found in less than optimal conditions, it gets repaired or replaced accordingly. Torsion spring and roller lubrication and repairs are important. The same goes for garage door sensor testing and adjustments. These routine tasks help keep the system in optimal working shape.
Local Garage Door Repairs Nearby
Yonkers and its surrounding cities are all within the service area. If you want a free estimate on services like new garage door installation, or you need help with a door that got off track, you can contact us. The team at Garage Door Repair Yonkers provides same day response times to all the nearest areas and others that are relatively close by.
Garage Door Service and Guidance
"How Can I fix My Garage Door?" This is a question we're asked very often, and for good reasons. This is the information era where doctor Google never fails, so it's only understandable you'd try to find out how to replace my broken spring? Or how to fix a broken garage panel? and so on. However, Google is not a qualified technician – and oftentimes the tips and articles you read were not written by professionals. Garage Door Repair Yonkers has the pros you need to help you understand how to get the most out of your door. Contact us anytime, Sunday through Saturday.
Contact Us Today!

Satisfaction Guaranteed

Weekend Appointments

Affordable & Reliable Services

Highly Skilled Technicians