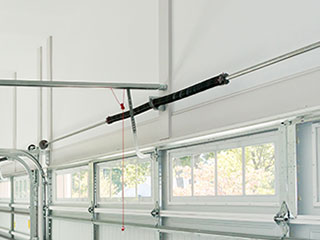 If your door simply won't open or close, chances are that your springs are not functioning correctly or have already broken. The answer is to replace the malfunctioning spring(s). Due to the nature of these tightly wound parts carrying out this replacement without proper training and experience can be very dangerous. Put safety first and leave it to the professionals, contact our team of skilled technicians today.
Torsion Versus Extension Springs
There are two types of garage door springs, torsion and extension. Each type enables your door to open and close and will cause problems if they fail to function effectively. You can locate the torsion spring above the garage door while extension springs, which are smaller in size, can be found either side of the door. Whether you're dealing with worn or already snapped components - we can get your door working safely and effectively in no time at all!
Tense Times Ahead?
Should any spring become extended or compressed beyond its capability, it will stop working effectively. Never more is this the case than for a garage door spring, which is responsible for carrying a great deal of weight on a regular basis. A broken spring can cause a door to close shut or slam without warning. If this happens to you, it's time to contact the professionals.
Spring Break – No Laughing Matter!
Many things can happen when a garage door's springs break. Doors may fail to totally close, they may without warning suddenly unwind, or mayeven break altogether. The door may even fall with a loud crash. You can prevent these occurrences by scheduling a service appointment with our local team. We can ensure your springs, whether torsion or extension, are well maintained, properly adjusted and fully lubricated. Contact us at Garage Door Repair Yonkers for professional, fuss-free repairs, today.
We also take care of:

Torsion Spring Adjustment

Screw Drive Opener Replacement

LiftMaster Chain Drive Lubrication

Overhead Door Repair & Installation