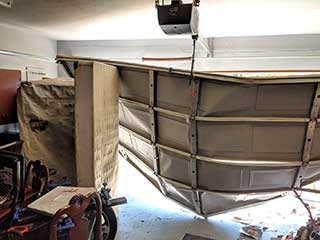 In general, it is recommended that you find a nearby garage door pro to inspect and tune up your system. Automatic garage doors need maintenance every six to ten months. These deceptively complex systems can suffer a variety of malfunctions and breakdowns. It's important to know about the garage door services available near your area so you can call the Yonkers-based experts on time.
Garage Door Opener Not Working?
The opener is the device that contains the motor and control system that your garage door needs to move. If you have issues with your garage door not opening or closing, or if it opens slowly or haltingly, the opener may require attention. Often, opener damage can be repaired by a good garage door service company, but in some cases, you'll need them to order and install a replacement for you.
Garage Door Not Closing?
If a garage door refuses to close, the problem usually has to do with the safety sensors mounted on either side of the garage entrance. These sensors could be dirty or disconnected, but most likely they are in need of realignment. Other possible causes of a garage door not closing include spastic controls, a stuck opener, or damaged springs.
Broken Spring Repairs
Spring repair and replacement are some of the most important maintenance tasks, so make sure you know a garage door company near you that can do it! A broken spring isn't just a problem for your garage, but can also endanger you and your family's safety. If there's one garage door maintenance task that should be left to the professionals, it's spring replacement.
Garage Door Off Track?
Accidents, loose screws, and broken rollers can all cause a garage door to slide out of its tracks. If that happens, trying to open the door automatically might be impossible, and even if it can be done it isn't advisable. Reinstalling a garage door onto its tracks is an involved process, and the problem that caused it to come out will need to be solved first. Remember, returning a garage door to its tracks can be dangerous, so leave this type of job to the pros.
Garage Door Installation - Free Estimates
If you don't have an automatic overhead door for your garage, you should think about having one installed. If you have one, but its old and falling apart, consider a garage door replacement project. There are all sorts of components that can be used for custom garage door assembly. A broken door can often be replaced by another from the same manufacturer.
Local Garage Door Company Nearby
Being based out of Yonkers means the ability to respond quickly to job requests. If you find yourself in need of some sort of garage door-related assistance, know you've got who to call. From garage door opener installation to lift cable or drive system maintenance. Whatever service you need, let us know. The Garage Door Repair Yonkers team covers any and all needs. This includes same day repairs and completely new installations. Contact us anytime for more info and emergency repairs.