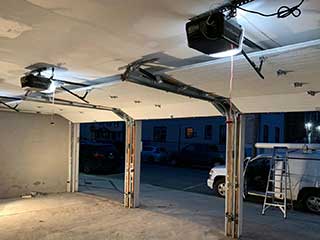 The garage door company you need is close than you think. It's always good to know a local pro you can call on when you need help with your automatic overhead garage door. This system requires some expert assistance when it breaks down or starts acting up. But how local is local? Let's put it in simpler terms. If you're looking for a garage door company that services New Rochelle or areas near the Bronx, Garage Door Repair Yonkers is who you need to call.
Garage Door Opener Troubleshooting
So what makes your garage door automated? That would be the opener. This is the device that functions as both the power source and the control machine. The remote, a wireless keypad or your own smartphone are the tools you can use to control the garage door opener. The opener consists of a housing unit which contains the circuitry, and a drive system which connects it to your garage door. It can experience all sorts of issues, including broken trolley or motor gear and misaligned sensors. Whatever the problem and wherever you are, Garage Door Yonkers operates all along the Hudson River. We're the nearest garage door company whose service area reaches from Tarrytown to Harrison and even close to Manhattan.
Broken Garage Door Spring Repairs
Contrary to popular belief, it's the springs, not the opener, that bear most of the garage door weight. The garage door springs support the panels and use tension to help them move in a safe and smooth manner. Broken springs will create a major hindrance. Can you open a garage door with a broken spring? Maybe. Is it worth the risk? No. Avoid doing that and get nearby broken spring repair pros from a reliable garage door company to help you. By reaching out to a local service provider for help you can minimize damage and get your garage door working again quickly. Covering all the areas from Greenwich to Queens means anyone remotely near Yonkers who needs the help of a garage door company for spring replacement services gets help on the day they call. The same goes for spring tension adjustment and lubrication maintenance.
Garage Door Installation + Free Estimates
What would kind of garage door company would we be if we didn't offer new overhead door installation services? There are all sorts of types and models to choose from and various kinds of panels. Working with brands like Clopay and Windsor allows us to ensure the garage doors we install work reliably and remain durable over time. Garage Door Repair Yonkers offers free estimates on new doors. Get in touch with us to have a garage door expert near you provide guidance and advice for free.
Local Garage Door Company
Servicing areas near Yonkers qualifies us as being close. But it's the strict adherence to high quality and customer satisfaction that make Garage Door Repair Yonkers the best garage door company near your area. From opener repairs to door installation to emergency troubleshooting springs and cables. Any service needs you have are covered in full with us. Give us a call for same day garage door services, available through the weekend too.
More Useful Information
How do I check the garage door bottom seal?
The best way to check the bottom seal of your garage door is with a hose. Spray water at the bottom of your garage door, sweeping across the entire driveway, and have someone watching from inside. If any water gets inside, you'll know exactly where the leak is. To be thorough, you can pour water on the floor inside of the garage to see if any flows outward as well.
How do I measure garage door height and weight?
Measuring your garage door's height is easy. Just take a tape measure and stretch it from the bottom seal to the top of the upper panel and check the length. To weigh a garage door, you can estimate by plugging the door's size and materials into an online calculator or weight it yourself. To do the latter, put your garage door in manual mode and use some wooden or metal planks to lower it gently onto a durable scale.
What does garage door installation involve?
If your garage has never had an automatic overhead door before, it will need tracks first. Once you have measured your garage entrance and chosen the door you want, it will be time to level and screw in the tracks and opener bracket. Next, the spring assembly, lift cables and spools, and sensors go in, followed by the door and opener themselves. Finally, it's time to connect everything before bringing the opener online. The opener needs testing and calibration, as well as connection to your remote and wall controls before the door is ready for use.